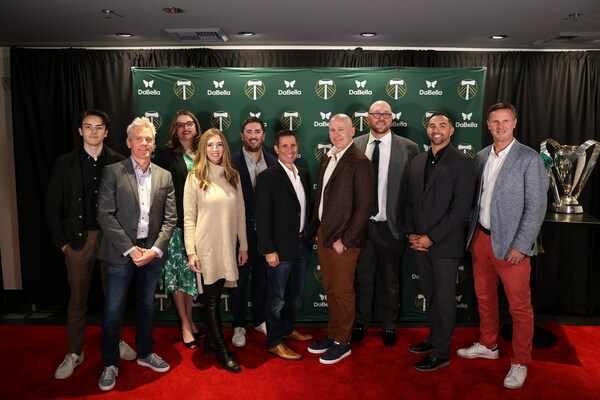 ---
DaBella Becomes First Portland Timbers Jersey Partner Since 2011
LOS ANGELES, Nov. 16, 2023 /PRNewswire/ -- Innovative Partnerships Group, a global leader in naming rights and sponsorships, was the agency of record for the new naming rights agreement between the Portland Timbers of Major League Soccer (MLS) and Portland-based DaBella, a home improvement services leader. The multi-year partnership marks the first-ever foray into sponsorship for DaBella.
Representatives from the Portland Timbers, DaBella and Innovative Partnerships Group gather for the jersey partnership announcement at Providence Park in Portland, OR
Innovative Partnerships Group was retained by the Timbers in March to secure the club's first jersey partner since its inception in 2011. DaBella's branding will be prominently featured on all home, away and specialty game kits and club apparel.
"We selected Innovative Partnerships Group because of their proven track record and their enthusiasm for this project, despite a relatively ambitious timeline," said Heather Davis, Timbers CEO. "IPG has a deep understanding of the sports and soccer landscape and a really talented team that delivers tremendous value for their clients."
As "Official Home Improvement Partner" of the Portland Timbers, DaBella aims to further strengthen its Portland community ties by supporting Stand Together Week, the Portland Timbers Community Fund, and all Timbers Youth Camps. DaBella will spearhead an exciting addition to the fan experience as well via "DaBella House," a semi-permanent, in-stadium structure, that will be the centerpiece of a new in-game, seat upgrade promotion called "Best Seat in the House."
"We could not be more thrilled to have this opportunity with the Timbers," said Donnie McMillan, Jr., DaBella Founder and CEO. "We did not view Innovative Partnerships Group as just a sales agency, but as a true business partner who helped our team understand the intangibles and non-traditional metrics that will allow us to substantially grow market-share and scale nationally."
Innovative Partnerships Group's executive team has a proven track record of assisting global sports property rights holders in generating billions of dollars in long-term naming rights and sponsorship revenue over the past 25+ years. Jeff Marks, CEO of Innovative Partnerships Group, noted, "This is a perfect example of how our company's Innovation Studio, a collaboration of business development, creative solutions, valuation and IP/asset creation, helped bring this deal together. It's a real testament to both the Timbers and DaBella of trusting our process and ultimately becoming an excellent match for one another."
According to Daniel Cassidy, VP of Partnerships for Innovative Partnerships Group, "We quickly noticed DaBella's Oregon roots and its commitment to local communities. But given its expanding national footprint, we persuaded DaBella on the power of MLS, its media partnership with Apple TV and the upcoming 2026 World Cup as a platform to leverage the jersey naming rights in top markets around the country."
Innovative Partnerships Group has extensive roots in soccer. The Timbers marks the seventh MLS jersey partnership for their executive team. Innovative Partnerships Group was the first AOR for the Canadian Premier League, working on founding league and jersey partnerships. and is currently the agency of record for FC Barcelona's Espai Barça project in a multi-year collaboration. 
---
About Innovative Partnerships Group
Innovative Partnerships Group is a global leader in developing long-term, revenue-generating business relationships among the most prestigious professional sports team, entertainment properties and global brands.
The company has been recognized on several occasions in recent years by Sports Business Journal as one of the leading sports marketing agencies in this industry. Innovative Partnerships Group has its breakthrough Partnership Intelligence™ system that allows both properties and brands to maximize their return on sponsorship partnerships. For more information, visit www.ipg360.com.
SOURCE Innovative Partnerships Group
https://www.prnewswire.com/news-releases/innovative-partnerships-group-announce-jersey-naming-rights-for-portland-timbersdabella-partnership-301991102.html?tc=eml_cleartime