This article was originally published to mlb.com
ST. PETERSBURG -- The Rays are closer than ever to securing a long-term home in the Tampa Bay area.
The Rays reached an agreement with the city of St. Petersburg and Pinellas County to build a new, $1.3 billion ballpark as part of the redevelopment of the Tropicana Field site, an 86-acre area also known as the Historic Gas Plant District. The club, city and county made the announcement at Tropicana Field's "162 Landing" on Tuesday morning.
There is still a public approval process that must take place over the next few months, but this is the first time the Rays have reached this step in their long-running pursuit of a new ballpark. As a result, it appears more likely than ever that the club will remain where it's been since its inaugural season in 1998: in downtown St. Petersburg.
"I am incredibly excited. This is a big, meaningful and really positive development," team president Brian Auld said. "I also feel a ton of pressure to make sure that we can execute on this vision that particularly the mayor of St. Petersburg has entrusted us to deliver, but also the county commissioners. So we've got a lot of work ahead of us."
The Rays' proposal features an approximately 30,000-seat ballpark (with the capacity expanded to 35,000 for special events) with three seating levels, a fixed roof, an artificial turf field, operable walls and a pavilion design. The Rays would pay for more than half of the stadium's estimated cost, with the city and county covering approximately $600 million and the Rays responsible for the rest.
According to the agreement, the entire investment in the Historic Gas Plant District development project is projected to be more than $6 billion. Approximately 15-20 acres, including the ballpark and two event parking garages, would be owned by Pinellas County, leased to St. Petersburg and subleased to the Rays on a 30-year lease agreement with options to extend it to 40 years.
The club's current 30-year use agreement at Tropicana Field expires after the 2027 season. If the agreement is approved and everything goes according to plan, ballpark construction would be begin in late 2024 and be completed by late '27. The Rays would begin playing there on Opening Day 2028 and accomplish their oft-stated goal of keeping the club in the Tampa Bay area for generations to come.
"This will be a transformative project for the Rays, St. Petersburg and Pinellas County," principal owner Stuart Sternberg said. "We have proudly served as Tampa Bay's Major League team for 25 years, and we are thrilled to be in position to do so for decades and generations to come."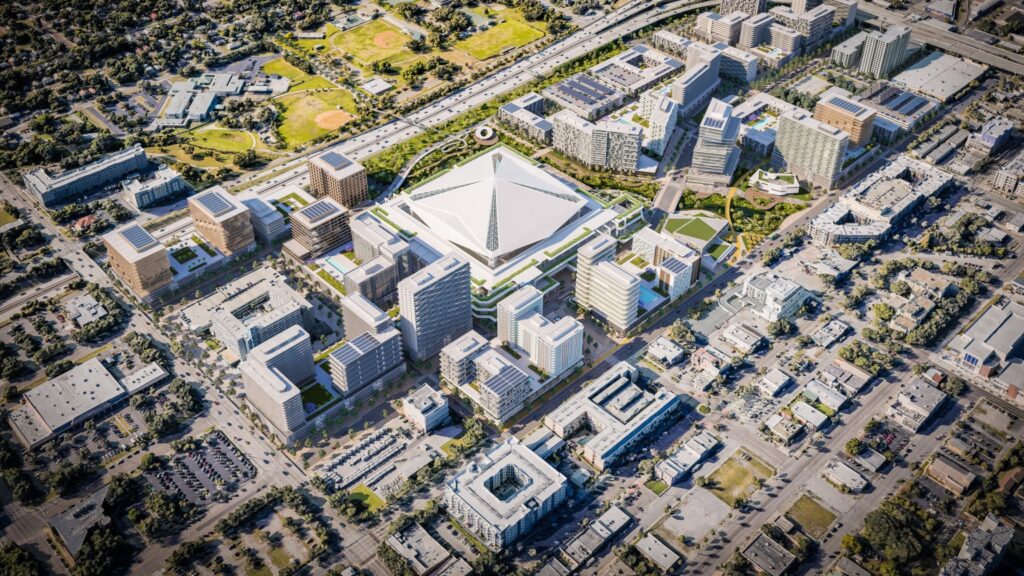 In January, St. Petersburg Mayor Ken Welch selected the Rays and their development partner Hines as his preferred choice to redevelop the Tropicana Field site, calling the decision "the best path forward for our city" and referring to the Rays/Hines as "the best partner for this generational endeavor."
"Our transformational development of 86 acres in the heart of St. Petersburg will benefit St. Pete and Tampa Bay residents for generations to come," said Welch. "The Rays are here to stay, and it's also critical to underscore that this impactful work is much bigger than baseball and extends far beyond the 17-acre ballpark.
"We are duty bound with our intentional efforts to honor the broken promises made to the Historic Gas Plant community, an incredibly special place that my own family called home. Our strong partnership with Pinellas County and the Hines-Rays group is coupling opportunity with hope, linking jobs to economic growth, fulfilling a commitment to minority business participation and building thousands of residential units, including a significant number of affordable and workforce housing to uplift families and strengthen neighborhoods."
The ballpark was just one part of the Rays and Hines' mixed-use district redevelopment plan, which also called for multifamily housing units, office and medical space, retail space, hotel rooms, senior living residences, an entertainment venue, conference and meeting space, the Woodson African American Museum of Florida and parking.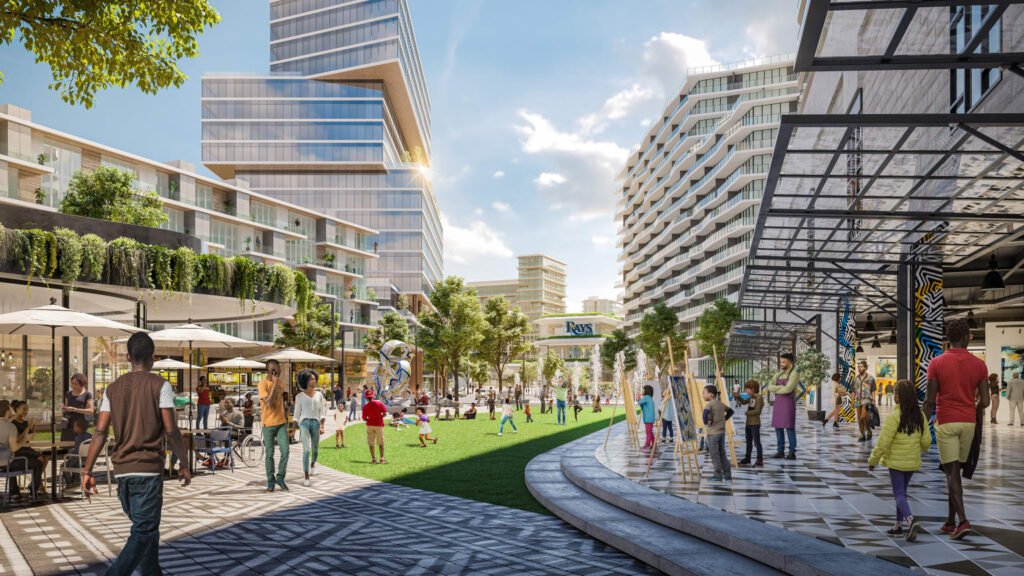 The Rays have been searching for a new ballpark in the Tampa Bay area for about 16 years. They announced plans in November 2007 for a stadium on the Al Lang Stadium site, couldn't reach an agreement with Hillsborough County in 2018 for a proposed ballpark in Ybor City, then had their split-season "Sister City" proposal with Montreal rejected by MLB's Executive Council in January 2022.
Tampa Bay has been one of baseball's most successful clubs on the field over the last 15 years, having clinched its ninth postseason appearance since 2008 (and its fifth straight) on Sunday, but ranked no higher than 28th in average attendance from 2011-22. The Rays are 26th in the Majors this season, averaging 17,778 fans per game, heading into their final regular-season homestand.
The club will face questions about how building a new ballpark in roughly the same location as Tropicana Field might address their well-documented attendance issues. But the Rays believe that a new ballpark, combined with the redeveloped area around it and their continued success on the field, will drive further interest and higher attendance numbers.
"We think there's a number of things that are going to allow us to materially increase attendance going forward," Auld said. "The first is that we're going to have a better ballpark surrounded by a world-class destination, so we expect more people to come to enjoy that incredible ballpark and all the wonderful things we're going to have around it."
About Innovative Partnerships Group
Innovative Partnerships Group (IPG 360) is a leading Los Angeles-based naming rights, business development and international marketing firm focused on generating long-term strategic business partnerships for prestigious global brands. It is specialised in the sports, music and entertainment industries and has extensive experience with clients from professional leagues, governing bodies and franchises and teams from the main sports competitions including LaLiga, NFL, NBA, NHL, MLS, MLB and the Olympics.
Innovative Partnerships Group also works with a patented system, Partnership Intelligence ™, which helps companies and brands accurately assess, align and measure their potential sponsorship deals. The company has been recognised on several occasions in recent years by Sports Business Journal as one of the leading sports marketing agencies in this industry