COLORADO SPRINGS, Colo. — USA Team Handball today unveiled its new logo, in conjunction with the refreshed website look of the Team USA platform. The refreshed visual identity for USA Team Handball will serve as the emblem of the American team handball program, as the sport continues to grow in the United States over the years to come.
In a little over a year, the National Governing Body has undergone a major transformation. With input from the Board of Directors, U.S. Olympic & Paralympic Committee (USOPC) and International Handball Federation (IHF), the organization had appointed a Chief Executive Officer in Barry Siff, who, among other things, established a team of full-time staff, prioritized the exposure of team handball to the American people, and invested in the sport's grassroots development.
"After receiving feedback from our community and going through multiple rounds of reviews with key individuals in our sport during this rebranding process, we are proud to have this logo signify a new day at USA Team Handball. We've worked incredibly hard to set our organization up for long-term success and I am excited for the bright future of our athletes and our sport," said former USA Team Handball CEO Barry Siff.
"Now, more than ever, I believe that handball is 'America's Next Great Sport'. We are grateful for the IHF and USOPC's investment and support in our organization, as it has helped us tremendously to get on our feet. Over the upcoming years, we will continue to grow this incredible sport, provide opportunities to athletes in our nation and usher in sustainable growth for USA Team Handball at all levels."
USA Team Handball is also proud to have achieved compliance with all standards set forth by the Center of SafeSport and the USOPC. The organization has made athlete safety a true priority, and has embedded its day-to-day operations and focus.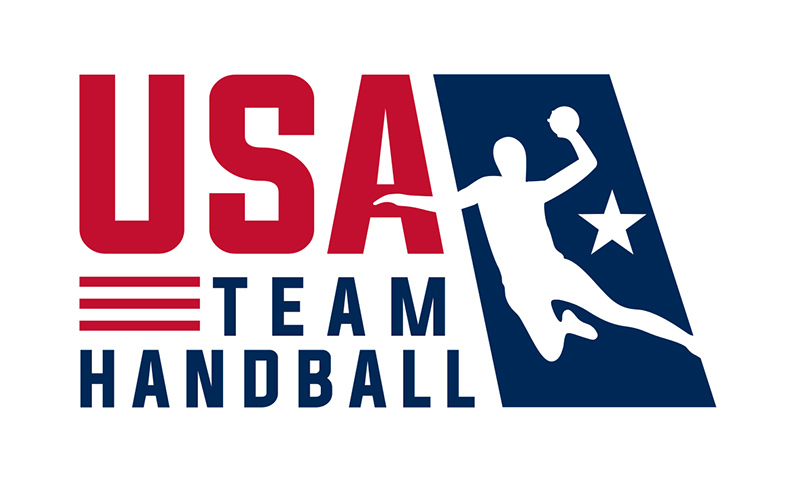 "I am proud that we have successfully become compliant with the various components of athlete safety, both through the U.S. Center for SafeSport and the USOPC," said USA Team Handball Administrative Manager, Emily Hewitt. "Complying with these policies helps our athletes feel safe, knowledgeable and empowered when playing team handball. I hope, by providing the tools, infrastructure and education for athlete safety, that we're enabling our athletes to focus more on training, competing and their love of the game."
USA Team Handball has also partnered with businesses like Verizon, Molten, PerkSpot and DeVry University in the last year, and is now poised to provide more value to its membership and grow its community.
The new logo and identity were created by marketing agency Innovative Partnerships Group (IPG360) of Los Angeles, California.
"We wanted to express the physical, fast-paced excitement of team handball in this logo" said Dave Cogan, Creative Director at Innovative Partnerships Group. "It was important to us that we captured the accurate throwing motion of a handball player, and created a gender-neutral figure to celebrate all of our athletes equally, so we consulted a number of experts in order to achieve the right look. Hopefully, this new look for USA Team Handball will be able to garner excitement from American sports fans during the years to come."
The logo depicts a handball athlete in action throwing a ball, and shares cohesive elements with other sports in the Olympic and Paralympic movements through the use of color, stripes and stars.
About USA Team Handball
USA Team Handball (USATH) is the U.S. National Governing Body for the Olympic discipline of Team Handball, and is responsible for the development of grassroots programs, preparation of national teams for international competition – including the Pan American and Olympic Games – as well as the day-to-day oversight of the sport of team handball in the United States. The mission of USATH is to develop, promote, educate and grow the sport of team handball at all levels domestically, and to enable U.S. athletes to achieve sustained competitive excellence to win medals in international and Olympic competition. USATH is a member of the International Handball Federation, the North American and Caribbean Handball Confederation, and the United States Olympic & Paralympic Committee, and is headquartered in Colorado Springs, Colorado.
---
Original Article:
https://www.teamusa.org/USA-Team-Handball/News/2020/July/23/USA-Team-Handball-Unveils-New-Logo-And-Website-In-Rebranding-Effort
Media Contact:
Melissa Zhang | (508) 768-5649 | Melissa.Zhang@usateamhandball.org